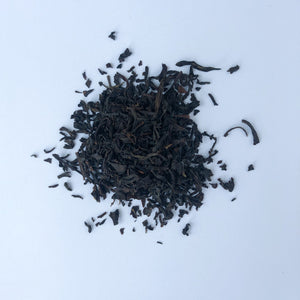 Ingredients:
Pine smoked Fujian, China black tea
Directions:
Water: 208°F | Leaves: 1 tsp per 6 ounce cup | Infusion Time: 3-4 minutes (Hint: a shorter steep yields a superb straight tea needing no milk or sugar)
Richly evocative and aromatic, this Fujian, China, black tea is at once smoky, fruity, and rich.
This tea ROCKS! Pine smoked leaves in the centuries-old tradition yield a distinctive cup that reveals more fruit notes upon subsequent steeping.

This may be the smoothest, most evocative black tea you have ever tasted. Foodies try this tea in recipes. You will be amazed.
Read More