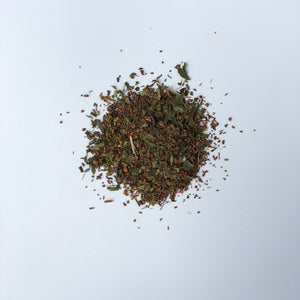 Ingredients:
Organic rooibos, organic peppermint, essential bergamot oil
Directions:
Water Temperature: 200°F
Leaf to Water Ratio: 1 tablespoon per 8 ounces
Steep Time: 5-7 minutes
For iced tea, make a double-strength infusion, dilute with cold water and pour over ice.
Sweet, soothing rooibos, complemented by refreshing, aromatic peppermint. Peppermint Rooibos makes a deep red infusion with a smooth, rich mouthfeel and fresh minty sweetness that underlines the finer points of peppermint. The slightest touch of bergamot harmonizes these herbs, highlighting the soothing aroma of peppermint with the sweet and silky character of rooibos.
Read More