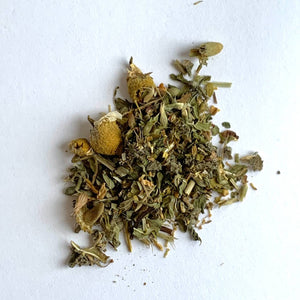 Ingredients:
Organic spearmint leaf, organic catnip, organic chamomile flowers, organic skullcap, organic raspberry leaf, organic calendula flowers, and organic meadowsweet flowers.
Directions:
Fill 1 teaspoon of tea in a cloth tea bag or mesh basket and place in your favorite mug. Pour 8 ounces of boiling water over the tea and allow to steep for 3-5 minutes. Experiment with steep time and quantity of tea and find your ideal cup!
Notice:
Chamomile may cause an allergic reaction in people who are sensitive to the Asteraceae plant family. Use in persons with sensitivity to aspirin or other salicylate-containing drugs in cautioned.
Lightly perfumed aroma with complimentary mint tones, and an initially sweet flavor with a honeydew linger. Our organic quiet child tea is a serene infusion that has a refreshing minty flavor. Perfect for all ages right before bedtime or enjoy a cup whenever you may need some tranquility. A wonderful combination of minty fruity flavor, this tea is sure to become a house-hold favorite.
Read More