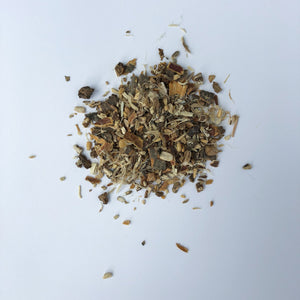 Ingredients:
Organic burdock root, organic dandelion root, organic buckthorn bark, organic marshmallow root, and organic ginger root.
Directions:
Daily serving size: Pour 8-12 oz of boiling water (212° F) over 1 tsp. of tea. Steep 3-4 minutes.
Notice:
This product contains Buckthorn Bark (Rhamnus frangula). Read and follow directions carefully. Do not use if you have or develop diarrhea, loose stools, or abdominal pain because Buckthorn Bark may worsen these conditions and be harmful to your health. Consult your physician if you have frequent diarrhea or if you are pregnant, nursing, taking medication, or have a medical condition.
Our Regularity formula is a blend of herbs formulated to help support effective and gentle relief without the unpleasant after-effects. It's a 100% natural way to help support the body's regularity. Caffeine-Free.
Read More