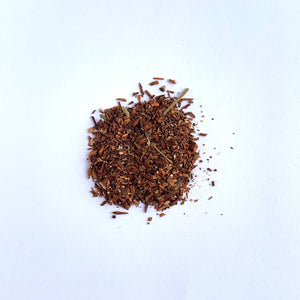 Ingredients:
Organic Rooibos tea (Aspalathus linearis), organic cinnamon, organic ginger root, organic cardamom seed, organic cloves, and organic stevia leaf.
Directions:
Pour 8 oz of boiling water (212° F) over 1 tsp. of tea. Steep 4-5 minutes. Add 2 oz of hot milk (or dairy substitute), and sweeten with honey or sugar to taste.
This unique chai blend combines Organic Rooibos Tea with the traditional zesty chai tea ingredients like cinnamon and cardamom along with stevia, creating a sweet and refreshing beverage. It tastes great whether served hot or cold! Caffeine-Free.
Read More