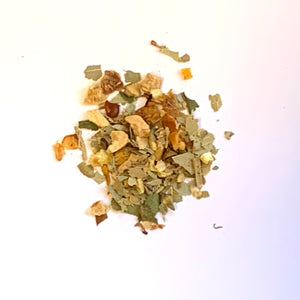 Ingredients: Organic quince, organic lemon peel, organic linden flowers and leaves, organic eucalyptus, organic peaches, organic yuzu, organic ginger, organic lemon myrtle, organic black pepper, organic hawthorn leaves, essential tangerine oil.
Directions: Water Temperature: 200°F Leaf to Water Ratio: 1.5 TBSP per 12 ounces Steep Time: 5 minutes
Quince Eucalyptus was created especially for cold winters. This tea highlights sweet quince, refreshing eucalyptus, spicy ginger, punchy black pepper and vibrant yuzu. Don't let the winter doldrums get you down!
Read More